2015 NCAA Basketball Pool Headquarters
Free squares pool with any 64 team pool purchase!
Popular Basketball Pool Formats: Choose from NCAA 64 Team Tournament, Sweet 16 and our new Squares pool formats. Click here for a complete overview.

Basketball Pool Features: We offer a variety of NCAA Pool Scoring Options & Features to satisfy the requirements of pool managers, including upset and bonus scoring, multiple pick sheets for players and much more. We simplify running your college basketball tournament so you can enjoy more of the games.

Returning Managers: Start your 2014 NCAA office pool based on last years setting. Additionally, use the Invite Manager to get your previous year's participants back in the game.

Large Pool Support: Want to run a basketball pool for more than 500 people? TourneyTime can handle that, just add-on more players or consider a Sponsored pool.

Enjoy Ad Free Experience: We know you would like a break from all the ads and pop-ups. You will NOT find those on TourneyTime. Additionally, we do not sell your account information to anyone.

Satisfaction Guarantee: We stand behind our pools with world-class servers and service. We guarantee your NFL and NCAA Pool experience.
Low Hosting Fees: Don't overpay for pool hosting. We will save you $$$ compared to our competitors!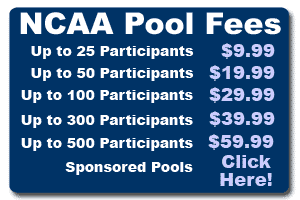 Don't forget to track your pool using our TourneyTime iPhone app!
---

Customers Matter!
"Rock on! We started with NFL and then used you for NCAA this year. We're all sold on this! My boss could even figure it out!" - D.T.

More Pool Testimonials...
---
Quick Reference
-Printable Tournament Bracket
-Check us out on Google+
-Wikipedia Says
-Need Login Help?